Description
| Factory Fit | Capacity | Also Fits |
| --- | --- | --- |
| 17(17rd) | 17 Round 9mm | 19/26/34 |
| 17(22rd) | 22 Round 9mm | 19/26/34 |
| 17(27rd) | 27 Round 9mm | 19/26/34 |
| 17 (31rd) | 31 Round 9mm | 17/19/26/34 |
| 17 (40rd) | 40 Round 9mm | 17/19/26/34 |
| 19 | 15 Round 9mm | 26 |
| 20 | 15 Round 10mm | 29/40 |
| 20(20rd) | 20 Round 10mm | 29/40 |
| 20(30rd) | 20 Round 10mm | 29/40 |
| 21 | 13 Round .45ACP | 30/41 |
| 21(18rd) | 18 Round .45ACP | 30/41 |
| 21(30rd) | 30 Round .45ACP | 30/41 |
| 22(16rd) | 16 Round .40 | 23/27/35 |
| 22(19rd) | 19 Round .40 | 23/27/35 |
| 22(24rd) | 24 Round .40 | 23/27/35 |
| 22(30rd) | 30 Round .40 | 23/27/35 |
| 23 | 13 Round .40 | 27 |
| 42 | 12 Round .380 | |
| 43 | 12 Round 9mm | |
This ETS Translucent is a great choice… and for reasons other than it just looks way cool!
It is guaranteed to fit and function perfectly, and it's compatible with both Glock and aftermarket magazine products. The baseplate is specifically designed for easy disassembly and ergonomically enhanced to make it easy to grab.
The advanced polymer construction makes it extremely impact resistant and protected from harsh chemicals.
The superior heat, cold, and UV resistance means it won't become brittle, even with exposed to harsh environments or extreme cold.
This polymer construction also makes is creep resistant — feed lips and body won't "spread" even under long term, fully loaded storage.
And did we mention that it's translucent and you can easily see, at a glance, which mags are fully or only partially loaded?
Due to legal restrictions, these magazines are not available for purchase by civilians in the specific states listed below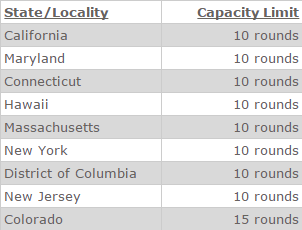 LAW ENFORCEMENT PROFESSIONALS: If you live in a state that has magazine capacity restrictions, we can ship High Capacity magazines to your residence or department address upon receipt of your LE credentials and driver's license with address that matches the ship to address.
Order Online or Call Toll-Free: 1-800-601-8273